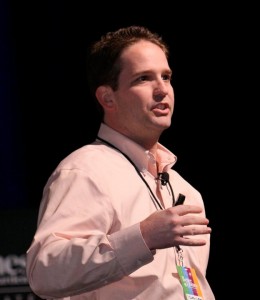 Since starting my first business blog in March of 2005, I've been a thought leader in understanding how small business owners can improve their bottom line through the effective use of social media.
Currently, I head the social media team at Dun & Bradstreet Credibility Corp ("DandB") out of our corporate offices in Malibu, CA. We're an extremely well-funded startup led by CEO Jeff Stibel that raised $200 million in July '10 to buy D&B's small business-focused assets.
My social media team is focused on implementing interesting BtoB campaigns such as our award-winning CredibilityLIVE events while also maintaining a credibile social media presence through our blog (Credibility Insights) and on sites like Twitter (@DandB), Facebook (/DandBCredibility) and LinkedIn (Dun & Bradstreet Credibility Corp).My success as a online marketing consultant & executive has earned me labels like "Mr. Social" (San Fernando Business Journal), "builder of the real estate blogosphere's infrastructure" (LA Times), quoted in sources like the Wall Street Journal and the New York Times as an expert in online marketing.
Looking for a Dynamic Speaker for your Small Business Event? 
The best online marketing strategies are constantly changing as the tools evolve, so I'm yet to ever give the same presentation twice…   However there are some general themes that I've been covering for years such as building a successful business blog, promoting yourself through social media and optimizing your search engine presence through SEO.
To give you a flavor of how I approach speaking, here are two presentations I've given recently.  The first gives on overview of how professionals can use their website as an online marketing hub by appropriately integrating social media best practices, while the second presentation is specific to best practices around search engine optimization (SEO).
Previous Speaking Events
Some of my previous speaking events include:
Kona, HI. TechConKona. Social Media Optimization for Small Business Owners
Los Angeles, CA. Social Media Club LA. Don't get fired: Know the Rules of Social Media in Regulated Industries
Thousand Oaks, CA. California Lutheran University. Network Relentlessly
BtoB Webinar.  BtoB Integration of Social and Search: Driving Leads from Likes, Links and +1s.
Kelowna, British Columbia, Canada.  Royal LePage Kelowna Awards Event.   Social Media Optimization
Las Vegas, NV. Better Homes & Gardens Real Estate' Fusion Event: 10 Things You Didn't Know You Could Do with Your Smartphone
Las Vegas, NV. Better Homes & Gardens Real Estate' Fusion Event: Building Online Influence
New Orleans, LA.  National Association of REALTORS (NAR). Hosting WordPress Camp and speaking on An Introduction to WordPress
New Orleans, LA.  National Association of REALTORS (NAR): Social Media Optimization
Camarillo, CA. Camarillo Chamber of Commerce, Young Professionals Group: Making Social Media Work for Your Business
Anaheim, CA, CAR Expo: Your Social Media Strategy: Where You Need to Be and Why (moderator)
Anaheim, CA, Women's Council of REALTORS, California Chapter: Developing a Website Strategy that Drives Business
Webinar, Institute of Luxury Home Marketing: Optimizing Your Online Marketing with Creative SEO
Santa Monica, CA, Social Media Week: Google vs. Facebook: Best Practices for the Realtor & Market Insights from Industry Leaders (moderator)
Aptos, CA, Women's Council of REALTORS, Santa Cruz chapter: Navigating The Now: Using Social Media to Drive Business
San Francisco, CA, Real Estate Connect: WordPress Workshop (moderating a half-day series of sessions on themes, plugins, online hubs, and the future of WordPress)
Webinar, Council of Residential Specialists: Creative SEO
Portland, OR. BuzzRE PDX: Understanding the Agent Biz Cycle
Toronto, Canada, RealtorQuest: Making Social Media Work for You
Orange County, CA. BuzzRE OC: Understanding the Agent Biz Cycle
Atlanta, GA, RE Tech South: Getting Serious about Lead Management
Chicago IL, Woman's Council of REALTOR'S New Rules for Real Estate: Making Social Media Work for You
Las Vegas, NV,  Leading Real Estate Companies of the World Conference: Future Tense: Nurturing & Sustaining Online Communities
Las Vegas, NV,  Leading Real Estate Companies of the World Conference: Ask the Experts at MarTech
Portland, OR, HomeQuest's 2010 Social Media Summit: From Lead Management to Client Management
New York City, NY, Real Estate Connect:  Technology and Media Track (moderator) with sessions on WordPress, Twitter, Content Distribution and Hyperlocal content
San Diego, CA: NAR Annual Conference: Defining the Social Me
San Diego, CA: NAR Annual Conference: Agent 2.0: Efficient, Informed and Empowered
Wisconsin Dells, WI, WRA Annual Convention: Using Social Networks to Drive Real Business
San Francisco, CA, Real Estate Connect: Social Media Strategy
Phoenix, AZ, ARMLS Technopalooza:  Using Social Media to Build and Engage Your Online Community
New York City, NY, Real Estate Connect:  Wake Up. Go Mobile (moderator)
New York City, NY, Real Estate Connect:  Down and Dirty Analytics (moderator)
New York City, NY, Real Estate Connect: 10 Steps You Must Take Now to Justify Your Blogging Efforts
Orlando, FL, NAR Annual Conference: Using Social Media to Engage Clients
Orlando, FL. NAR Annual Conference: Driving Business Using Blogs (moderator)
Bermuda.  Christie's Great Estates: Using Social Networks to Reach Affluent Consumers
Las Vegas, NV. RE BlogWorld: Manageing a Successful Multi-author Blog
Laguna Hills, CA. 4realzEd: Using Blogs to Build Community
San Francisco, CA. Real Estate Connect SF: 50 Technologies To Help You Survive the Downturn
Toronto, Canada. RealtorQuest: Understanding your Online Competition
Toronto, Canada. RealtorQuest: Using Blogs to Build Community
Atlanta, GA, ReTechSouth
Los Angeles, CA. Coldwell Banker Education Fair: Using Social Networks to Engage Relevant Consumers
New York, NY. Inman's Real Estate Connect: Moderator: FORUM — Steer Your Blog Toward the Long Tail
Las Vegas, CA. NAR®: Understanding your Online Competition
Beverly Hills, CA. Beverly Hills Greater Los Angeles Association of REALTORS®: Heads Of Office High Tea (RCG Post)
San Jose, CA. California Chapter of the American Planning Association: Public Engagement Through Web2.0 (RCG Post)
Austin, TX. Keller Williams Technology MegaCamp. Guest speaker on Blogs and Social Networking
San Francisco, CA. Real Estate Connect: Panelist on Blogs and Social Networking: Creating Virtual Communities (RCG Post)
Sacramento, CA. California Association of REALTORS0 MLS Board: Consumer Benefits of a Statewide MLS? (RCG Post)
Oakland, CA. Finding Relevance on the Internet
Seattle, WA. Finding Relevance on the Internet
Long Beach, CA. Finding Relevance on the Internet
'06 SF Connect. Panelist on Lead Conversion