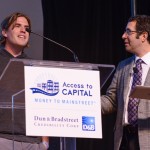 Ever since Sean Riley uploaded the Dude Wipes entry into our $10K Access to Capital contest, there have been way too many uncomfortable conversations around the office…
I've learned from the women in the office that the topic of baby wipes for men is clearly something that needs more attention.. and now that Dollar Shave Club has joined the conversation with one-wipe charlies, that "need" is clearly being met! .
Anyway, if you haven't seen Dollar Shave Club's video talking about #2, it's worth watching:
Anyway, I have a feeling that now that we're only at the beginning of a "male wipe" revolution, so best of luck to the Dollar Shave Club, Dude Wipes and all the other folks I have a feeling are going to quickly enter this space!
I'm somewhat tempted to ask a question at the end of this post, but I really don't want to know.