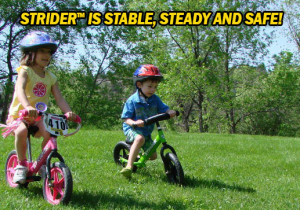 Earlier today, I took two of our interns (@theAaronSam & @brittjohnson111) aside to give them a talk on Social Media strategy at D&B Credibility.  (It's a talk I've given to just about every marketing intern that's joined our program and something I really enjoy doing!).
One of the points that I tried to drive home to them is that good social media and good SEO are completely intertwined and that neither good social media nor good SEO has fundamentally changed since google first hit the scene in the late '90s.
Good SEO Campaign = Creating pages that quality websites share
Good Social Campaigns = Creating content that quality people share
Greater quality sharing = more successful campaigns
With that in mind, I was so optimistic when I saw the title of this post on Search Engine Watch: Link Building the Right Way in 2013.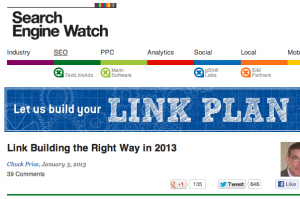 I thought to myself:  "Ohh… Are they going to acknowledge that if you're going to do link building 'right', then you'll be focusing on creating campaigns that earn tons of inbound links???"
But no… instead Chuck Price offered a few bland ways to "safely" generate some inbound links…  or as he says: "Top 7 Link Building Strategies that are Penguin Approved and Require NO Outreach."
And truthfully, the more I dive into the article, the more disappointed I am…   If his premise is that you should be looking to generate links that "Require NO Outreach," then the premise of the article is kinda absurd.
It's kinda like writing a post with the title:
Top 7 Ways to Ride a Bicycle that are Penguin Approved and Require NO Pedals
Seriously, if you want to do SEO, but don't want to take part in the "outreach" part, you really shouldn't be doing SEO in the first place.
And because I should also be providing some helpful resources for those looking for good ways to do Link Building in 2013, here are two articles that show how quality SEO campaigns are somewhat timeless: